AES SHOW
AoIP SUMMIT
TUESDAY OCTOBER 13
Audio Networking application and solutions, from leading experts

Wednesday October 13, 2020
Sessions on the hour from 9am – 6pm ET
Audio Networking/ AoIP has marked a fundamental shift in the way we transport audio in studios and in live event production.
From Recording Studios, Broadcast Studios, Post-Production, churches, both small and large scale venues and for remote broadcasts - all now have moved or are moving to AoIP.
There are many solutions out there, including DANTE, AVB/MILAN, RAVENNA and various proprietary networks, with AES67 as a unifying Rosetta Stone.
The AoIP Summit, part of Audio Engineering Month and the AES Show, delves into the application and solutions aspects of widely adopted solutions, including the latest information on tools and technology.
Join us on Tuesday October 13, 2020, for this first in a series of Audio Networking Summits, to learn from the experts and ask those vital questions.
The AES AoIP Summit will be hosted on a secure Zoom site. An add-on registration to the AES Show Fall 2020 is required, together with acknowledgement of your email to be shared with the AoIP Partners only. A link and passcode will be sent upon registration.
Event schedule
AoIP Summit Panels, discussions, Presentations and Q&A's
Terry Holton
AoIP Summit Panel Moderator
Moderated by Terry Holton, from AIMS, this introduction and panel includes Andreas Hildebrand from Alc Networx/Ravenna,
Jan Lykke
Business Development Manager, NTP Technology
In this presentation Jan Lykke will look at the pros and cons and challenges of transitioning to an AoIP solution. The term "pro audio industry" covers a wide range of users, from small music studios to large-scale post-production facilities. Jan will cover the benefits and challenges for these different types of users, backed up by real case stories.
Andreas Hildebrand
Technology Evangelist
The Alliance for IP Media Solutions (AIMS), is a non-profit trade alliance that fosters the adoption of one set of common, ubiquitous, standards-based protocols for interoperability over IP in the media and entertainment, and professional audio/video industries
Pete Tilley
Western Regional Sales Manager for Focusrite Pro
Join Focusrite Pro on October 13th for the AES Show AoIP Online Summit to watch a roundtable discussion with professionals from cutting-edge educational facilities on how to use Audio-over-IP technology to best to keep everyone safe during the upcoming school year.
Focusrite Pro's Pete Tilley will have an open discussion with Mark Beckett of Essex County School of Technology, Blair Liikala of North Texas State University, Scott Wynne of Appalachian State University, and Scott Burgess of University of Colorado, Denver, to discuss some ideas they've had regarding the upcoming school year including potential ways to move forward in a post-COVID-19 semester
Derek Badala
Director of Sales, RME (Synthax, Inc.)
Ethan Wetzell
OCA Alliance Marketing Committee Chair
Scott Sugden
Product & Technology Outreach Manager, L-Acoustics Meet the AoIP Summit Presenters
Introducing some of our key presenters
Terry Holton
Panel Moderator: AIMS Audio Group Chairman - UK - London, UK
``Terry is Chairman of the Audio Working Group in AIMS (the Alliance for IP Media Solutions). He was previously a Board member in the Media Networking Alliance before it was merged into AIMS in 2017.
Terry spent 25 years working for the Yamaha R&D Centre in London where he was General Manager and also headed up the Pro Audio Product Planning group working on a range of digital audio products. He is now a consultant focusing on media networking and represents Yamaha is various alliances and standards groups.``
Jan Lykke
Business Development Manager, NTP Technology
Jan Lykke joined NTP Technology 7 years ago where he has had a focus on the transition to AoIP in both the pro audio and broadcast industries. This includes designing AoIP solutions ranging from small music studios to large-scale post-production and broadcast facilities. NTP Technology provides audio conversion, routing and processing solutions for both music production and post-production under the DAD – Digital Audio Denmark brand and to the broadcast industry under the Penta brand. NTP also provide the industry-standard MTRX and MTRX Studio Pro Tools interfaces to Avid.
Andreas Hildebrand
Senior Product Manager and Evangelist for the RAVENNA technology developed by ALC NetworX, Germany
Andreas Hildebrand is acting as Senior Product Manager and Evangelist for the RAVENNA technology developed by ALC NetworX, Germany. His experience is based on more than 25 years of occupation within the Professional Audio / Broadcasting industry.
He is a member of the AES Task Group defining and maintaining the AES67 AoIP standard and regularly contributes to the SMPTE ST2110 SVIP standardization. He is also engaged in the AIMS Technical and Marketing work groups and is acting as co-chair of the AIMS Audio subgroup.
In 2018, RAVENNA has been awarded with the 20th Anniversary AV Award on "Top Innovation of the last 20 Years". In 2020, Andreas received the prestigious Technical Emmy Award for his work on RAVENNA and AoIP in general.
Pete Tilley
Western Regional Sales Manager for Focusrite Pro
Peter Tilley is the Western Regional Sales Manager for Focusrite Pro, acting as the
primary liaison for both the Education and Post-Production markets. His history of
Live Sound Engineering supplemented by Pro Audio Sales play a key part in combining his technological understanding of Pro Industry equipment with his ability to simplify it for the average user.
In this presentation, Peter will be interviewing Blair Liikala (University of North
Texas), Mark Beckett (Essex County School of Technology), Scott Burgess
(University of Colorado, Denver), and Scott Wynne (Appalachian State University).
Derek Badala
Director of Sales, RME (Synthax, Inc.)
Derek Badala is an industry veteran with 26 years of Pro Audio and MI experience. His past employment as chief audio engineer, business owner, product manager, sales manager, and sales director have given him insights to the Pro Audio Industry few have experienced. From Military and Broadcast sectors as well as equipment manufacturing, marketing, and sales, Derek has made notable contributions to our industry. Currently he is the Director of Sales of Synthax Inc whose brands include RME, Ferrofish, Alva, and myMix. He is a detailed energetic presenter who loves quality audio and educating professionals on audio solutions.
Ethan Wetzell
OCA Alliance Marketing Committee Chair
Ethan Wetzell has worked in professional audio for over 25 years, in positions ranging from front of house and studio engineer to global product manager for Electro-Voice DSP. Ethan is an active participant in standards activities such as AES-67 and X-210 and works extensively with trade associations such as the AVnu Alliance and OCA Alliance.
Scott Sugden
Product & Technology Outreach Manager, L-Acoustics
Prior to joining L-ACOUSTICS, Sugden spent time as a systems engineer for Clearwing Productions, Masque Sound and PRG Audio, as well as on touring off-Broadway productions of The Producers, Spamalot and 700 Sundays.
Pricing plans and options
The AoIP Summit takes place on Tuesday October 13. This will be delivered via private Zoom.
Please choose from one of the registration options below. Partner contact share is included with this event. A log-in code with instructions will be sent after registration.
Meet the AoIP Summit Partners
Introducing our exclusive Summit Partners
Focusrite Pro
Focusrite Audio Engineering has pioneered professional audio recording technology spanning more than three decades. Focusrite Pro, the company's professional and commercial division, meets the demands of recording, education, post-production, live sound, house of worship and broadcast professionals. It consists of RedNet, a fully modular audio-over-IP solution, and the Red range, Focusrite's flagship multi-format interfaces, along with the heritage ISA range of microphone preamplifiers and analogue signal processors. The solutions have been developed to meet the needs of the most demanding applications through a relentless focus on ease of use, quality and reliability.
Learn more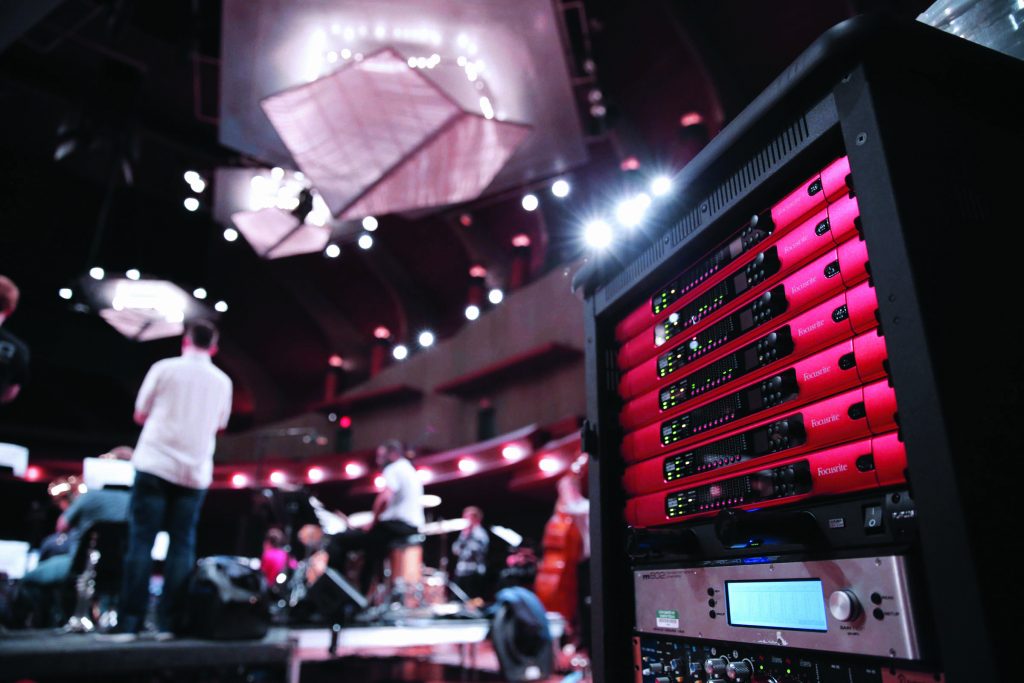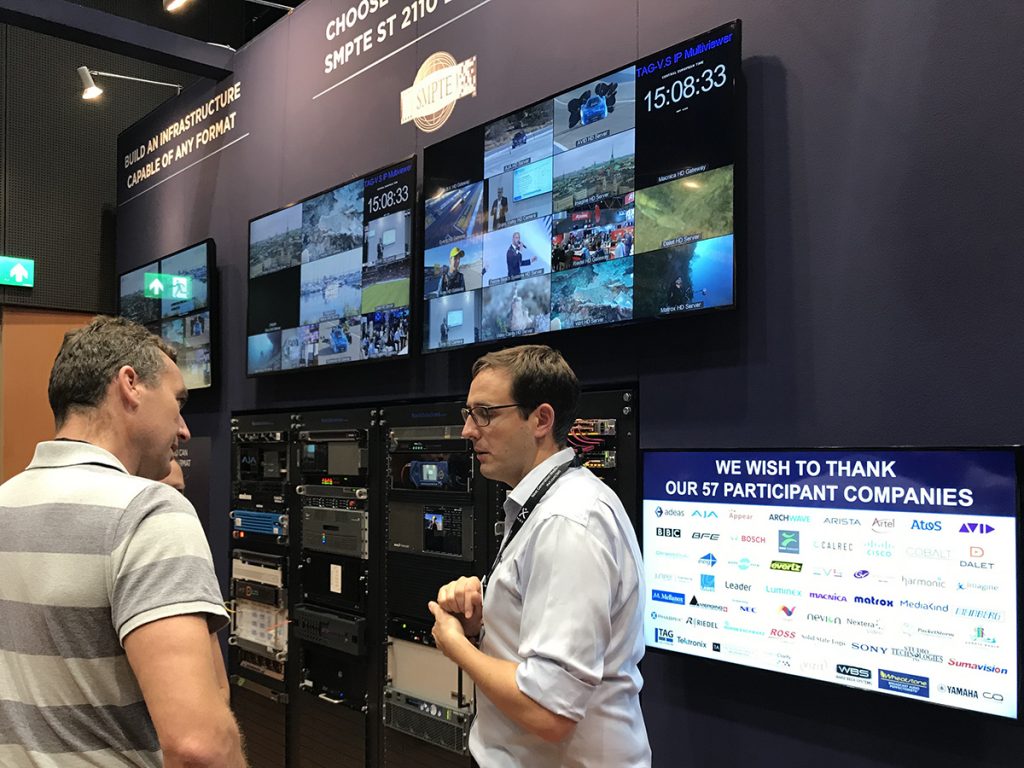 AIMS Alliance
AIMS is an industry consortium led by broadcast and ProAV engineers, technologists, visionaries, vendors and business executives dedicated to an open-standards approach that moves broadcast and media companies quickly and profitably from legacy systems to a virtualized, IP-based environment. AIMS' efforts build upon those of leading standards bodies such as the Video Services Forum (VSF), the Society of Motion Picture and Television Engineers (SMPTE), the European Broadcast Union (EBU), the Advanced Media Workflow Association (AMWA) and the Audio Engineering Society (AES). We don't compete with these bodies—we seek to foster the good work they have done.
This clear technology roadmap helps broadcasters rapidly deploy flexible IP-based production, storage and distribution capabilities, provided by the industry's leading infrastructure and software vendors. AIMS is an inclusive, transparent and not-for-profit organization which enables close cooperation between members and leading standards bodies ensuring that broadcasters' and AV professionals' business and technical needs are met. Together, we drive a comprehensive, ubiquitous set of IP standards that eliminate fragmentation and maximize interoperability, as well as provide reassurance that today's decisions do not lead to technological dead ends or proprietary lock-in tomorrow.
Learn more
Digigram
While radios already offered several simultaneous audio programs, Digigram chose to propose a codec with high channel density in only 1U. This codec had to manage talk-back channels and commentaries via IP. It had to support remote broadcasting of programs between remote studios and generate multiple WEB radio streams for CDNs. This led to the creation of IQOYA SERV/LINK, an extremely reliable and compact codec.
This new generation codec was the first IP audio codec in the market to offer as many channels in 1U. IQOYA SERV/LINK accommodates Digigram's professional audio cards and relies on the Fluid IP™ streaming engine developed by the brand. It is available in several versions with different format compatibility: MADI / AES67 / AES / EBU / DANTE / Analog.
Learn more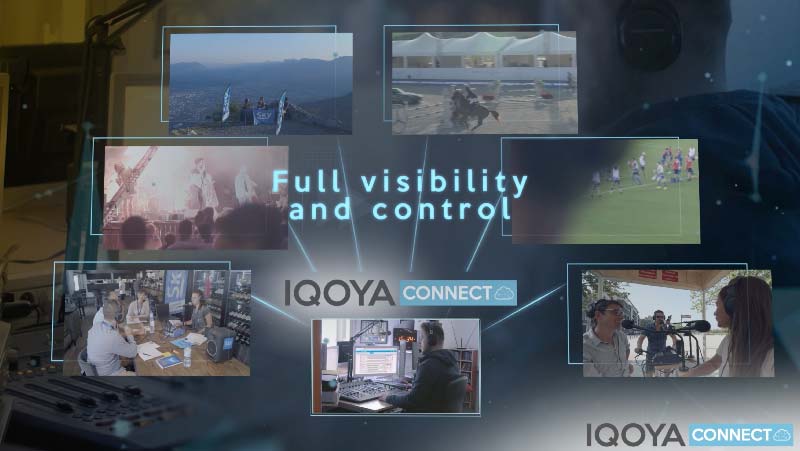 L-Acoustics
LS10
AVB Switch
Designed to overcome the challenges of touring events and installation applications, LS10 is a plug-and-play Avnu-certified AVB switch that integrates seamlessly within the L-Acoustics ecosystem. LS10 runs out of the box AVB for simplified connectivity, united audio and control distribution, and reliable networking. Users spend less time setting up systems and more time focusing on the strategic goal of creating unforgettable audio experiences.
ABOUT AVB
As a member of the Avnu Alliance, L-Acoustics is committed to the development of a complete ecosystem of interoperable devices using IEEE's open AVB standards. Benefits are:
• Guaranteed delivery of time sensitive data
• Guaranteed phase accuracy
• Low latency
• Maximized bandwidth usage
• Easy setup
Learn more
RAVENNA
RAVENNA is a solution for real-time distribution of audio and other media content in IP-based network environments. Utilizing standardized network protocols and technologies, RAVENNA can operate in existing network infrastructures and is fully AES67 and SMPTE ST 2110 compliant.
Initially developed to meet the exacting demands of the professional broadcast market, RAVENNA offers the best performance characteristics of any audio-over-IP transport solution on the market today: very low latency, full signal transparency and high reliability. Fields of application include in-house signal distribution for broadcasting houses and other fixed installations; flexible setups at venues and live events; OB van support; inter-studio links across WAN links and production facilities.
Powerful, scalable and reliable, the RAVENNA technology framework is already a high-quality stand-alone solution. It is also currently the easiest and most cost-effective route for manufacturers to offer their clients AES67 compatibility, thus taking a large step forwards in their ability to develop interoperable, standards-agnostic communications and signal transport solutions.
Liaisons with standard organizations and industry alliances (i.e. AES, AIMS, AMWA, SMPTE and others) ensure close alignment of the RAVENNA technology with current industry trends. Consequently, RAVENNA is already compliant with the AES67, SMPTE ST2110-30 and ST2110-31 standards.
Learn more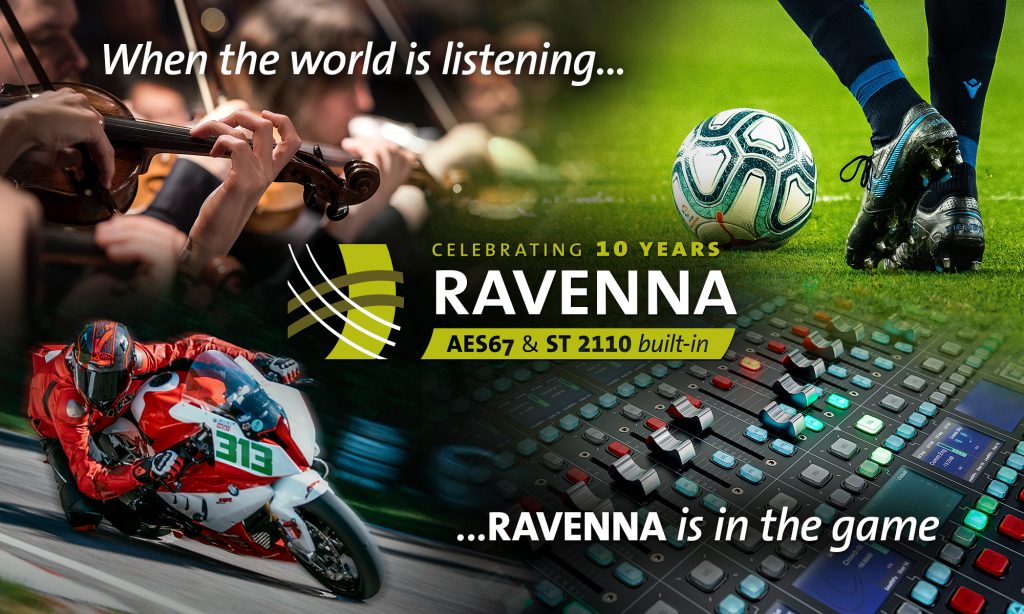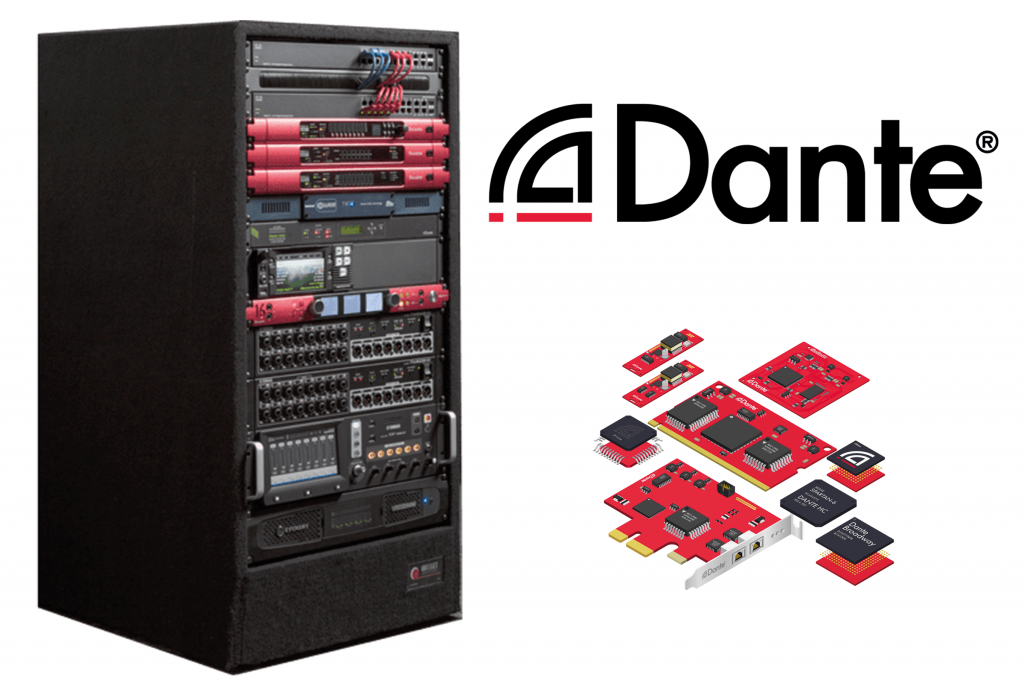 Dante
Dante: The Networking Standard for the Professional AV Industry.
Dante is the leading AV-over-IP solution in the world, found in over 2000 products from more than 400 manufacturers. Dante replaces point-to-point analog and digital connections with a standard IP network that delivers completely lossless audio, massive channel counts and near infinite signal routing flexibility, all while being incredibly easy to deploy and use.
Learn more
OCA Alliance
OCA is an architecture for system control and connection management of media networks. Now standardized as Audio Engineering Society AES70, OCA is capable of working effectively with all kinds of devices from multiple manufacturers, to provide fully interoperable multivendor networks.
OCA is an open, license-free standard available to anyone – the full AES70 specification is available through the AES standards website. Although the OCA Alliance welcomes new members at any time, Alliance membership is not required to use AES70.
OCA does not provide media transport, but can be used in conjunction with any available transport protocol (Dante, AVB, AES67, Cobranet, etc.). OCA protocols operate over standard Ethernet or 802.11 Wi-Fi networks.
OCA is a control protocol standard only, and does not define the programming design or user interfaces of devices or controllers.
OCA is modular, and may be used successfully in all sizes of devices, from small wall controllers to large audio processors and mixers. It can be deployed in subsets. For example, some products may use only OCA's connection management features, others may use only its audio processing features, while still others may use the entire feature set.
Learn more
NTP Technology
NTP Technology (www.ntp.dk) produces high-reliability audio routing and signal processing systems for major international broadcasters, audio mastering, editing and post-production studios under its Penta brand. DAD – Digital Audio Denmark (www.digitalaudio.dk), NTP Technology's second brand, is renowned worldwide for analog-to-digital and digital-to-analog audio converters delivering outstanding sonic performance. Based in Copenhagen, NTP is part of the Dan Technologies Group, one of Europe's leading suppliers of audio, video, transmission products and digital media solutions
Learn more