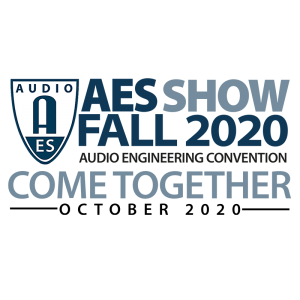 Technical Program Schedule is online!
Click here to view the Technical program schedule, live Channels, On-Demand, Papers, E-Briefs, Tech round Tables, Student & Careers information and more.
Make sure you are registered so you can access everything!
Welcome to the
AES SHOW FALL 2020, Audio Engineering Convention - Now Online!
October 2020 is now "AUDIO ENGINEERING MONTH" to celebrate the Audio Engineering Society's 149th Convention going online, with events spanning the entire month.
Register now to take advantage of every activity and event, such as TechTours - 7 Wonders of the Audio World, AES SHOWCASE, InstallTours, ProductLaunch, AES STUDENT WEEK, Keynotes and culminating in the world renowned AES Tech Program - with live and on-demand content.
Event schedule overview
Explore the program for this year's Convention and learn about the speakers and sessions in store for audio tech professionals, students and enthusiasts.
AES SHOW PLATINUM PARTNERS
Please visit our AES SHOW GOLD PARTNERS
REGISTER NOW to access AES Audio Engineering Month
In addition to the three choices below, click the 'REGISTER NOW!' button above for all available options
Want to be an AES Member? Get Connected!
Becoming an AES Member opens up a world of benefits that includes networking with leading industry figures, discounts on events and products, plus access to 70+ years of audio research, best practice guides, Standards, the Journal of the Audio Engineering Society and the AES Live: Video series, all curated in the AES's online archives.
Previous AES Fall Convention Keynote Presenters
GrandMaster Flash
Thomas Dolby
Maureen Droney
Chris Lord-Alge
Design Director
Leslie Gaston-Bird
George Massenburg
Visit our AES SHOW exclusive Media Partners for special offers and access